All about
PRINCE OF TENNIS
~ drawn by Takeshi Konomi
It doesn't matter if you read the manga or just watched the Anime - or if you know both. Maybe you even know the Tenimyu's, the Prince of Tennis Musicals?
If you don't know either of them, maybe I can interest you here in telling a short synopsis of the manga!
What is Prince of Tennis about?
Basicaly it's about the 12 year old Echizen Ryoma. He came from America back to Japan where he joins the schools tennis club Seigaku, which posses a team of awesome tennis players; these are the Regulars. Soon everyone notices (thanks to Echizen's self-confident, almost arrogant and provoking behaviour which leads to several matches against older students), that he is talented enough to join the Regulars.
The manga has an awesome drawing stlye [in my opinion] and the matches are all unique and exciting.
Every player has their own story and own strength and also weakness.
Who are your fav characters?
hehehe, I just waited for this!
Kikumaru Eiji
Is a part of the
Golden Pair
, very acrobatic player, has got a huuuuge family, is always jumping around, being very light-hearted, very carefree. Is drawn as a cat in the chibi-episodes.
And now the perfect cast...
Actually it took me 1 hour to put this into this post, cos I found a friendster profile where some fan put 111 Adachin pics and I was a bit busy clicking the "save" thing, but anyways: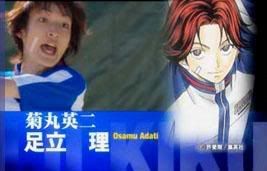 [Adachi Osamu]
Tezuka
Captain of the Team. Serious guy, who never seems to smile. Very strong, but suffering an old injury of his elbow.
best cast ever:
Echizen
[ofc, eh?]
Echizen Ryoma, heroine of the whole thing, very arrogant but cool person.
Best cast ever in the movie:
and of course kudos to Kotaro Yanagi who played Echizen in the musical before and after a tragic accident:
Watch the live action movie!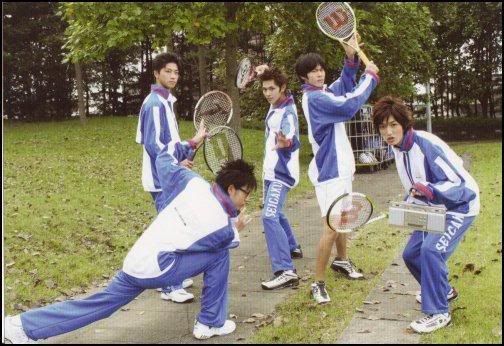 from right to left:
upper right: Oishi ; under right: Inui ; middle: Kawamura ; upper left: Kaido without the bandana ; under left: Kikumaru - why is he carrying a radio?!
~ Hope to find more Puriten Fans here! \o/
Mada mada da ne!